Women often spend hours in front of an open wardrobe looking for the perfect dress for a special occasion. Finding that one dress that will show off your figure may be very difficult to do without knowing the exact type of your figure. Worry no more! We at Here found 8 different body shapes and described their features and the best dress options.
8. Apple shape
© Depositphotos.com © Depositphotos.com 
An apple-shaped body has a fuller upper part (your bust is larger than your hips and waist). Famous "apples" include Drew Barrymore, Angelina Jolie, and Tyra Banks. If you want to stun everyone at a party, go for dresses with an empire or drop waist to make your waistline more defined. The following dresses will also complement your figure:
Shift
Sheath
Wrap
Swing
Trapeze
Babydoll
Skater
A-line
Peplum with a high and/or empire waist
Check out how Drew Barrymore's figure instantly looks better in a trapeze-shaped dress.
7. Inverted triangle shape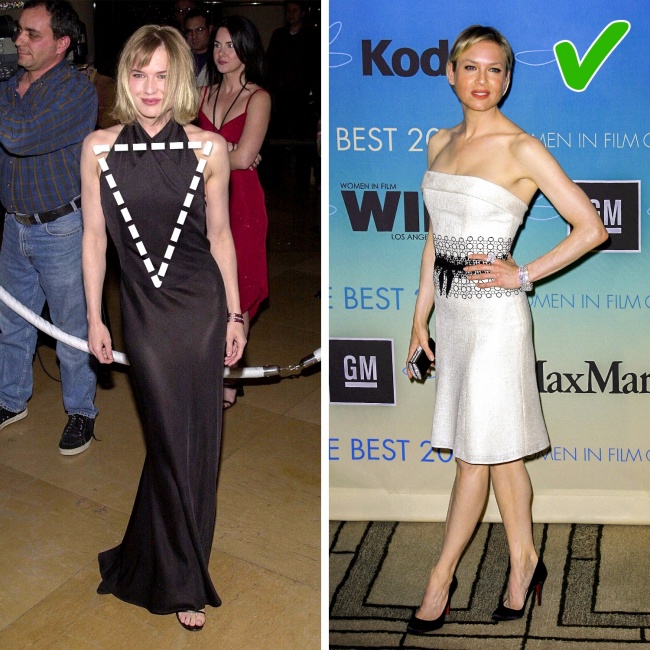 © Depositphotos.com © Depositphotos.com 
If your shoulders are wider than your hips and waistline, you have an inverted triangle shape. Many models and actresses have such figures, including Renee Zellweger, Demi Moore, and Naomi Campbell. There are many types of dresses that you can wear, but opt for V-neck, strapless, or one-shoulder pieces.
Renee's body looks much better in the strapless dress on the right than the one on the left.